Arusha National Park:  Home of the Black and White Colobus Monkeys and the strangling fig
Arusha National Park is located only half an hour from Arusha itself, making an it an easy day trip if desired.  The scenery varies widely and includes Mount Meru, the fifth highest peak in Africa, the alkaline Momella Lakes, the Ngurdoto Crater, grasslands, and the 'small Serengeti'.
Arusha National Park includes a combination of diverse geographical areas within an easy drive of one another, plentiful wildlife – in particular, look out for the rare (and endangered) Black and white Colobus monkeys – which within Tanzania are found only in Arusha National Park – and interesting flora and fauna.  Watch for the strangling fig in its mission to take over the rainforest, and ask your guide about how it spreads.  There are also more than 600 bird species that can be found in Arusha National Park, with a good density of pink flamingos and pelicans, and a variety of migratory bird species.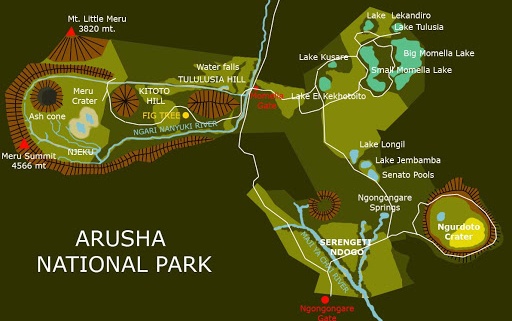 NGURDOTO CRATER
Ngurdoto crater is also known as the 'mini Ngorongoro' although it is far smaller than its larger cousin, the Ngorongoro Crater.  Ngurdoto crater sits near the Ngongongare Gate, which is where most visitors coming from Arusha will enter, and has a small museum. You cannot descend into the Ngurdoto crater itself as it is a protected area, but the road around offers good views down into the 3 km wide caldera.   Hiking can be arranged along the rim of the caldera as well.
This area is good for spotting the Colobus Monkeys in the trees, as well as blue monkeys and baboons, who live more on and close to the ground and can often be spotted along the road as you drive.  Looking down into the crater, you will often see groups of Cape buffalo, as well as giraffes and zebras.
MOUNT MERU
One of the spectacular features of Arusha national park is Tanzania's second and Africa's fifth highest peak, Mount Meru.  Trekking is popular on Mount Meru, both for the experience of this peak itself and, on occasion, as a way of acclimatizing prior to attempting an ascent of Mount Kilimanjaro.  One can reach the summit of Mount Meru in three to five days.
From Mount Meru, you have great views across to Mount Kilimanjaro on a clear day; you can walk the Mount Meru crater rim, and you also have sweeping views down the slopes of the Mountain.  Mount Meru is a beautiful place to hike.
MOMELA LAKES
One of the striking landmarks in Arusha National Park, created around 1-3 million years ago as a result of volcanic eruption combined with landslides, is the Momela lakes, located in the northeast corner of Arusha National Park.
The Momela Lakes are a chain of seven shallow lakes, linked together.  They are a variety of striking blue/green colours because of a combination of mineral variations and the dense algae within these lakes.  Due to their high alkalinity, animals do not drink the water, but they do attract great numbers of pink flamingos, as well as pelicans and a variety of other migratory birds.
One of the most interesting sightings in Arusha National Park was a time when I was travelling with three guests.  We noticed some blue monkeys behaving uncharacteristically and grooming a baboon – and not just any baboon, but an albino baboon.  Very unusual on all fronts.  Sightings like this make each safari different and show me that it is not only the big animals that are of interest during game drives.  Sometimes the small is truly beautiful and noteworthy!