Have questions about coming on Safari?
We have answers!  Feel free to ask your questions and we'll get back to you right away.  Or see if your questions are found below, in this list of the most frequently asked questions about coming on safari.  Simply click on any question to see a detailed answer.  But please don't hesitate to reach out for any information you need.
What is the best time to come on safari?
Short answer:  it depends on what you want to see!  Longer answer:  At different times of the year, you'll see different animals and scenery, but they're all amazing in their own ways.  Longest answer of all:  Check out when to come on safari for full details on what you're likely to see and experience in each part of the year.  Whenever you come, Destination Safari looks forward to welcoming you.
Can I modify one of your safaris?
Absolutely!  Every safari we plan is customized to meet the interests and tastes of each guest.  The safari itineraries we show on this site are created to give you ideas, get you dreaming and show you some of the possibilities!  There's lots to discover in Northern Tanzania beyond the Serengeti.  It would be such a shame to miss Tarangire National Park simply because you hadn't heard about it!  So pick whichever safari appeals to you, without worrying too much about how many days it lasts, then contact us and we will happily modify it to create your perfect safari.  We can modify the number of days, where you go, how long you stay in any location, and we always sort out the accommodation options directly with our guests to be sure they have the optimal experience for their budget and desires.  So change away to your heart's content.
How long should I plan to be on safari?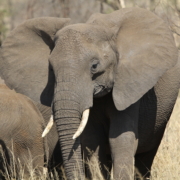 Safaris can range anywhere from one day to many weeks.  It depends on what is possible for you timewise.  You can have life-changing adventures in a single day – or hour!
Generally, we recommend people come for somewhere between five full days (arriving the night before) to about 18 days.  If you can safari for eight or nine days, you have a great chance to see the main Northern Tanzania national parks, and the 'big five' (lion, leopard, elephant, rhinoceros and Cape buffalo).  If you can stay longer, you can travel a little more slowly, spend more than one night in a camp or lodge, and really start to feel at home.  Either way, if you bring a camera, you're almost certain to go home with far too many photos!
Do you plan custom Safaris?
Absolutely!  Every safari we plan is customized to meet the interests and tastes of each guest.  The many safari itineraries we have created are shown to give you ideas, get you dreaming and show you some of the possibilities!  We will happily work with you to plan a custom safari either from scratch or from one of our many itineraries.  Just contact Destination Serengeti today to get started!
How much cash do I need on Safari?
Your safari package includes all accommodations and meals, park fees and your transportation.  Tipping is common on safari and is not included in your package, so you will probably want to bring cash (small bills) to use for tipping.  You may also want to stop and discover local arts or crafts (woodwork, paintings, jewellery, etc) – if that's your style, cash for souvenirs can be useful.  Maybe a bit of cash for incidentals or alcoholic drinks, but that's about all you'll need.
Spending preferences vary widely, but many people find that 30-60$ per day leaves them with a comfortable cushion and often some money to take home – unless they're doing lots of shopping along the way!  It's better to have more than you need, as obtaining cash in the Serengeti is near to impossible!  If you're in Arusha or Moshi or on Zanzibar, ATMs may be available, but when you're in the National Parks, you have what money you brought with you.  Traveller's cheques or credit cards are rarely useful.  You'll likely want a stash of 1$ bills for tipping for small services along the way; some $5 or $10 bills for tipping at lodges, and larger currency will probably only be useful if you are settling a big bar bill (!!) or buying more expensive arts or crafts.
How much should I tip?
Tipping is the eternal question for many people who come from countries where tipping is normal – or even where it isn't as you may then not be sure what to do.  Tipping is a big part of the culture in Tanzania as pay is generally relatively low, and tipping shows your appreciation for services received.  However, very few people will tell you how much to tip.  A common reply to a question about how much to tip will be 'whatever you want', 'it depends how happy you are', or 'I can't say' – all said with charming smiles.
Indeed how much you tip does depend entirely on how much you want to tip – tipping is not a requirement, but customary and a gracious gesture of thanks.  Many camps and lodges have boxes where you can leave a tip for the entire staff for your stay, but you may still want to tip individuals who have gone out of their way to assist you personally.  With all of that said, here are some common ranges or guidelines for those who find it stressful trying to figure out how much to tip! (all in USD):
Porters (not on treks, but at your accommodation):  $2-5
Laundry:  $1 per item
Vehicle transfers (per group):  $5
Guide/Driver on private safari tour (per couple/family per day):  $10-20
Migratory camps or safari lodges (per couple/family per day):  $5-15
Safari or special Activity Guide (when different from your regular driver/guide – per couple/family):  $10-25
These are absolutely suggestions only, and you are welcome to tip as much or as little as feels comfortable and appropriate to you.